6 Summer Experiences that Help Teens Stand Out on Applications
Summer will be upon us before you know it, so now is the perfect time to start thinking about how you will be spending that time! This especially applies to young people who will be applying to college or job opportunities next year. During the school year it's easy to for your time to be overwhelmed with academics, so what you do in the summer can really help you stand out on applications (both college and work!).
Below you will find a checklist of things that admissions officers and job hiring managers alike look for on applications. We did this by focusing on the experience gained (not the title!), making it easy to adapt to your interests, location, and the amount of time you have available.
---
✓ Get out of your comfort zone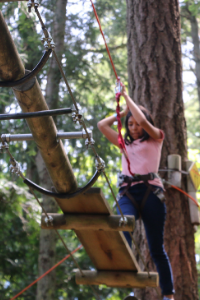 New experiences involve a level of risk, but we do them because we know the risks are worth the reward! Demonstrating that you have experience getting out of your comfort zone will help you stand out on applications in a good way! Those considering your application will be more confident that you can handle the challenges coming your way.
International experience is a valuable way to show that you are able to adjust to new challenges, and at the Global Leadership Academy, we encourage participants out of their comfort zone physically and mentally! A GLA alumna shared this with us: "I felt really proud of myself because I did things I thought I could never do. I was willing to be out of my comfort zone which used to scare me a lot."
---
✓ Learn from someone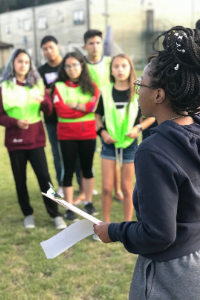 When admissions officers or hiring managers are looking at applications from young people, they are often looking not only for skills and experience, but also for potential. Young people are expected to need to put in time and effort to learn and develop, so being an active learner is an asset! If you can demonstrate that you look to learn from those who inspire you or have the skills/job you want, this will stand out on applications. For example, find a local mentor and offer to help them (and learn from them!) a few hours a week, or take an online class from someone with skills you look up to.
---
✓ Take initiative and start something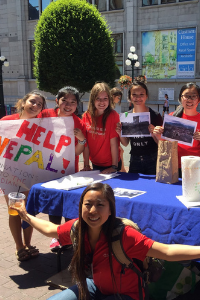 Who do you think stands out more: the person who started something, or the people who joined in? There is so much someone learns about you when you can show that you started something you cared about, including problem-solving skills, leadership experience, and that you are independent and driven. These are all amazing characteristics that will help you stand out on applications!
Many young people feel overwhelmed when we talk about starting a project, club, or event, but it doesn't have to be intimidating! Start small and go from there. Want some inspiration from our Global Leadership Academy alumni? Read about Megan's DREAM Project: Inclusion Through Sport, or Keegan and Nolan's DREAM Project: Lavender For Cancer.
---
✓ Discover your passions and values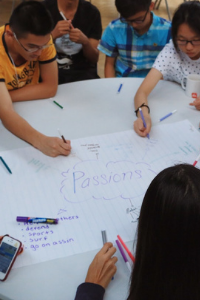 Admissions officers and hiring managers are actively looking for applicants who will stick with the program or company long-term. In fact, many college admissions officers are assessed based on their ability to choose candidates who complete the whole program and graduate! The best way to be someone who will fulfill these requirements and stand out in applications is to know your passions and values, and then apply for university programs or job opportunities that align with them.
---
✓ Give back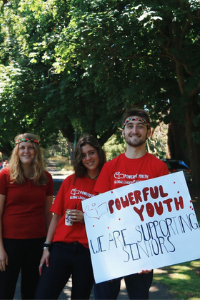 Volunteering or service experience is something many admissions officers and hiring managers look for when considering applications, especially from young people. You can gain a lot of valuable skills through volunteering or service that will stand out on applications, and empathy, global mindset, and passion are all leadership soft-skills that are highly desired. But more than any of that, giving back is a valuable experience unto itself. The service learning projects in our Global Leadership Academy are always experiences we hear alumni still talking about years later, because making a real impact impacts you as well! Need some ideas of organizations or causes to support? Check out this blog post!
---
✓ Demonstrate a commitment to improvement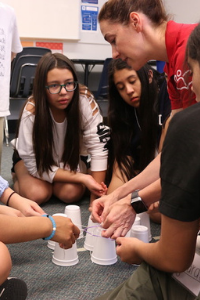 While applicants with many skills are in demand in today's world, colleges and employers still actively look for applicants who have dedicated time and energy towards self-improvement. Why? When you can demonstrate that you have made a long-term commitment to improve a skill, this shows that you are hard-working, driven, dedicated, determined, and have long-term vision. This will help you stand out in applications! Whether this be taking a summer course, completing a certification or level, or even participating in something that requires skills you've worked hard to develop, you can stand out in applications as a driven, hard-working individual who will be an asset to the college or workplace!
---
By following this checklist, you can build a summer of valuable experiences that will help you as a young person not only stand out on applications, but get you that dream college admissions or dream job!
Ready to apply for university? Check out our other blog post, How to Write About Your Extracurriculars on a College Application for more tips!
Using the power of experience-based learning, Powerful Youth is an award winning social enterprise dedicated to providing the best leadership training for youth world wide, helping them uncover purpose, fueled by their passions, to create positive and lasting change in themselves and their communities.
Want to learn more about our experiential leadership programs in Canada and the UK for international youth ages 12-18?
Read other blog posts by Powerful Youth