Sharing a love of reading: Alice's DREAM Project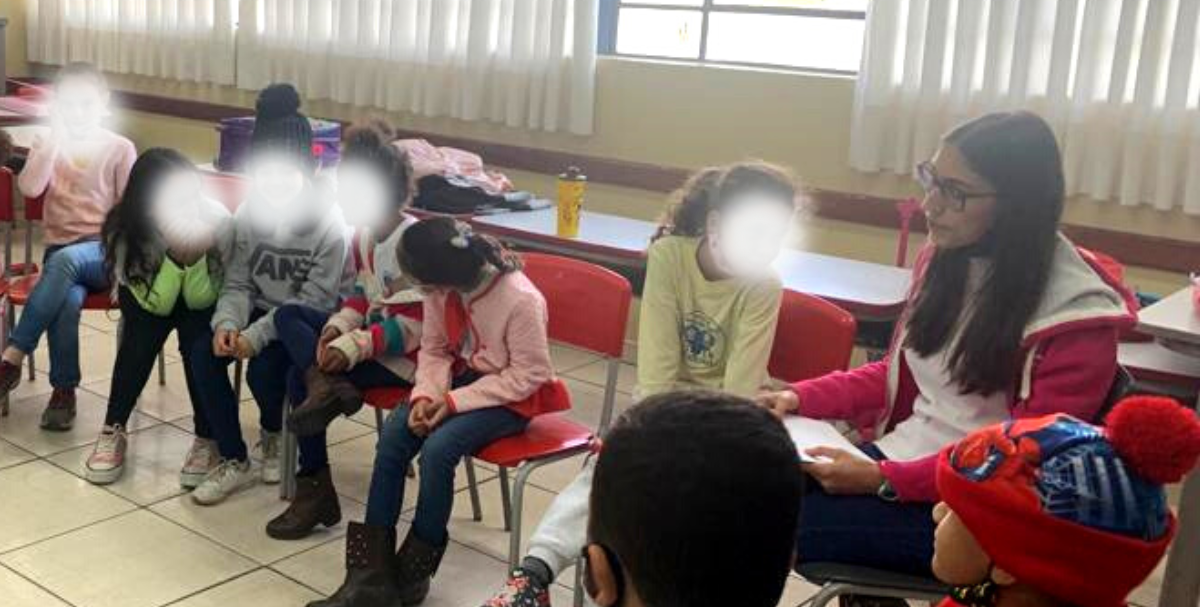 Global Leadership Academy has thousands of alumni globally making a difference in their communities! One of the reasons our alumni have such a big impact is because of the DREAM Project! The development and presentation of the DREAM project is the cornerstone activity of the Senior Global Leadership Academy. This is an opportunity for participants to combine their passions, values, and skills into a community service project that they will complete once they return home.
Alice Serafim from Campinas, Brazil attended the Senior Global Leadership Academy in Canada in 2022, and now we are sharing our conversation with her about how she turned her idea at GLA into a real changemaking project in her community!
What was your Dream Project?
"My Dream Project was to read to kids that don't have as much opportunity (to get interested in reading). I also discussed with them the text and how we can implement those ideas and morals in our daily lives."
How did you come up with this idea, and why was this project important to you?
"So, at first, I wanted to do something related to books and kids, and the first thing I thought about was to read to kids that can't. But when I started actually doing it, my aunt asked me for some help to inspire her students to read more (so I could get more experience) and so we thought that I could read a fable and talk to the kids about it! The main reason it was important to me is that when I think that I could be changing kids lives. I just can't help but feel excited. Plus, those kids also had a great impact on me."
What was the most important thing you learned at GLA that helped you to develop and implement a community service project?
"I think there were two points that helped me the most in this case:.The first one – the importance of working together as a team. One of the things I discussed with the kids was that in order to have a nice environment, they would have to practice team work; everyone should do their part. And the second thing was to be respectful. It helped me to show them that it is much better to be respected and to respect the other if we don't want any problems. Also, I had to be respectful with them and then them with me, so it was pretty important as well. I think I also have to thank [one of the Global Leadership Academy instructors] for showing me how much being respectful is worth it."
What has been the best or most memorable moment for you in the process of developing and completing your DREAM Project?
"Oh, definitely when I was working with them and they would just listen to me and actually be interested. And then, by the end, they gave me drawings and "love you" messages and it was so adorable! I received so many hugs!! I love hugs!"
What was the biggest obstacle in bringing your DREAM Project to life? How did you overcome it?
"I think I didn't have many big problems, actually. I would say that the only one was because I had never done anything like that, so I was really nervous. When I got there, looking at the class was terrifying, but I guess that being prepared and overhearing the kids talking about … what a "great teacher" I would be – it helped me so much."
What would you say to other youth who want to lead their own project or event, but feel too intimidated or like they cannot make a difference?
"You know, when I started GLA, I never thought I would actually make a difference. But then I realized that "the difference" doesn't have to be something big at all. We already change people's lives when we make a compliment, for example, so whatever you want to do will definitely help others. Just remember to do what you love and love what you do!"
A big congratulations to Alice for completing her Dream Project! She also shared with us that she intends to do the project again at another school – amazing! Are you inspired by Alice's project and want to attend the Global Leadership Academy and gain support in developing your very own changemaking project? Apply now!
Using the power of experience-based learning, Powerful Youth is an award winning social enterprise dedicated to providing the best leadership training for youth world wide, helping them uncover purpose, fueled by their passions, to create positive and lasting change in themselves and their communities.
Want to learn more about our experiential leadership programs in Canada and the UK for international youth ages 12-18?
Read other blog posts by Powerful Youth