Small Acts of Leadership: Inspiring Stories during COVID-19
In today's uncertain world, with many people struggling, stressed, and isolated due to the rapid spread of COVID-19, we need leaders to step up more than ever. Luckily, we're seeing a lot of that. But we're not just referring to the leaders you're thinking of: political leaders, business leaders, healthcare leaders. Regular people around the world, including many young people, are doing small acts of leadership to help those struggling, keep the public properly informed, or brighten someone's day.
In order to inspire you to consider what kind of small acts of leadership you can do during this time, we're sharing some of our favorite stories with you.
Sharing information, not viruses
At the end of December, as the first reports and concerns of COVID-19 began surfacing in China, one American teen decided to put his coding skills to use. Rather than waiting for what he was looking for to be created, he did a small act of leadership and made his own website that tracks the cases and movement of the virus by gathering data from official sources around the world, and then displays them all in one place in an easy-to-understand way. In an interview with The New Yorker, he said, "I wanted to just make the data easily accessible, but I never thought it would end up this big." The website has now had over 100 million visitors, and he is still hard at work improving the website and adding more features!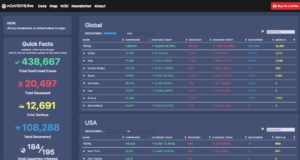 Sewing machines for good
You don't need to be on the frontline to be a leader. In fact, for a Belgian woman, all she needed for her small act of leadership was a sewing machine! When the shortage in face masks began, she started sewing her own to give to friends and family. Then, she created a Facebook group to share her designs with others, and the group now has almost 6,000 members in Belgium who are making masks! Furthermore, she has even consulted with Belgian health authorities to improve the effectiveness of her designs and fabric choices. Sewers around the world are now coming together (not physically, of course) to make cloth face masks for areas in short supply, making them available to the elderly, immunosuppressed, essential workers, and healthcare staff. Though homemade fabric masks do not provide the same level of protection as medical-grade masks, they do act as a physical barrier and are a reusable option (after washing in high heat!) for those without access to other masks.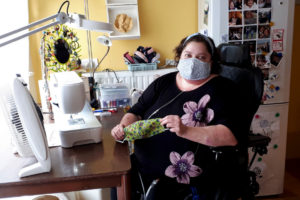 Neighborly postcards
A British woman with graphic design skills wanted to reach out to her neighbors to offer help, so she designed this postcard to print, fill out, and slip through the mailboxes in her neighborhood. However, instead of leaving things there, she shared her postcard template via Facebook so that anyone who read her post could download the template and use it themselves! Her small act of leadership has now been shared almost 10 thousand times, inspiring people around the world to support their neighbors (even if they don't know them) in whatever way possible – while maintaining a safe distance.
Balcony workouts
This fitness instructor in Seville, Spain didn't let social isolation stop him from leading others in an active lifestyle. With a lot of fitness instructors and studios moving online by leading classes on Instagram live, this instructor did something a little different. He took to a local roof surrounded by apartment buildings and locals joined in for the workout on their balconies! This small act of leadership shows how you can use the skills you already have to create a sense of community and inspire healthy habits.
Doorstep concerts
Instead of practicing at home, two young siblings brought their musical talents to the doorstep of an elderly neighbor, entertaining her while she remained under quarantine alone in her home. The neighbor was quoted by a local newspaper who later interviewed her, "This was a delightful break for all of us. I love all the kids and I love music. It was such a real gift." These kids understand the impact small acts of leadership can have, and that leadership can simply look like sharing your passions or skills to make a positive difference in someone's life!
While on the topic of music, hundreds (if not thousands) of big name musicians are also holding free concerts from their homes on Instagram live. This article shares a list of (regularly updated) upcoming Instagram concerts, primarily from North American and/or English-speaking artists. Make sure you're following all your favorite artists on Instagram to get notified if they go live!
Sharing with y'all pic.twitter.com/75pqmsY8bg

— Jackie Borchardt (@JMBorchardt) March 16, 2020
Using the power of experience-based learning, Powerful Youth is an award winning social enterprise dedicated to providing the best leadership training for youth world wide, helping them uncover purpose, fueled by their passions, to create positive and lasting change in themselves and their communities.
Want to learn more about our experiential leadership programs in Canada and the UK for international youth ages 12-18?
Read other blog posts by Powerful Youth