Five New Year's Resolutions for Aspiring Leaders
Tis the season for New Year's resolutions, and here at Powerful Youth we're setting goals to make 2020 our best year yet! But we've also been brainstorming about what all enthusiastic young leaders should do if they want to improve their leadership skills this year. New Year's resolutions for aspiring leaders that are S.M.A.R.T. (Specific, Measurable, Attainable, Relevant, Timely), just like the goals we teach our participants to make!
Many people think first of resolutions related to health, things like eating better or improving our skills in our favourite sport. Or maybe financial goals, which for young people may be saving up for a car or university costs. But with colleges and companies increasingly valuing leadership skills in applicants, improving your leadership skills is a worthy resolution! As a young person (or person of any age, for that matter!), what can you do to be a better leader this time next year? Here are 6 New Year's resolutions for aspiring leaders. 
Establish or join a network of like-minded young leaders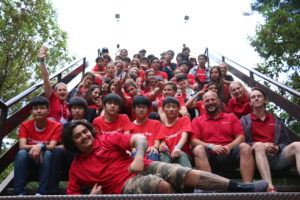 One of the biggest things you can do for yourself this year if you want to grow as a leader is to surround yourself with others who want to do the same. That's why our first New Year's resolution for aspiring leaders is to find those people and stick with them.
Leadership is tough – there's no doubt about that. Whether it's struggles with team dynamics or setbacks in getting a project or event off the ground, having a network of people you can turn to for support is crucial! You understand each other and can provide the much needed encouragement to continue on when times get tough!
Beyond support and encouragement, having a network of other aspiring leaders is very valuable.You can recommend programs, events, and books to one another, in addition to sharing important lessons you have learned. If you are a part of an international network of young leaders, like our hundreds of Global Leadership Academy alumni, you may additionally discover university programs, volunteer opportunity, or amazing job abroad you never could have found otherwise!
Struggling to find like-minded young leaders?
Join (or start!) a local club or program about entrepreneurship, leadership, social justice, or changemaking. Volunteering in your community is another great way to meet young people who share the same passions are you. But if it's leadership training, confidence building, international experience, and a global network of young leaders you're looking for, we'd love for you to apply now for our Global Leadership Academies in Canada or England.
Do it! Create or join a network of aspiring young leaders.
Learn from the masters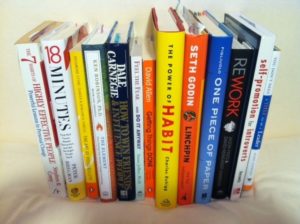 Leadership is a journey, one that never truly ends. No matter how experienced of a leader you are, an important part of taking steps along your journey is continued learning! One of the best New Year's resolutions for aspiring leaders is to turn to the leadership masters and learn from them.
There are so many books and podcasts from inspiring and accomplished professionals in the leadership field. As a result, it can be difficult to find the right one for you. Sometimes it's not the most popular or best selling leadership book that you will learn the most from. It's important to find topics within leadership that interest you. For example, entrepreneurship, teamwork, political leadership, or changemaking! Alternatively, find successful companies or causes you care about, and read books written by those involved in their success. Many leadership podcasts feature interviews with successful leaders in a variety of fields. Scroll through the options until you find someone that peaks your interest! In conclusion, finding books or podcasts that you not only learn from, but also enjoy, will ensure you keep your resolution!
(If you're not interested in books or podcasts, or you've tried but you just couldn't quite find the time, why not find inspiration and learning through another platform? Check out our blog post sharing Instagram accounts every young leader should follow.)
Books
This is a great list of leadership books especially for young and aspiring leaders. It features some of the most influential and best-selling books in leadership as well as newer and different options. Alternatively, less traditional books like Outliers or Tipping Point by Malcolm Gladwell aim to teach about success, leadership, and communication through interesting non-fiction short stories, making Gladwell's books easy and fun to read for those who don't typically like non-fiction. Similarly, if you are interested in environmental causes and climate change, a great option is the fast-paced This Changes Everything by Naomi Klein.
Podcasts
This article shares more than 20 leadership-related podcasts from all genres and topics. We also recommend The Tim Ferriss Show and Ted Radio Hour. For those looking to learn more about inspiring young leaders and activists, MindShift's episode "Where Did All These Teen Activists Come From?", and Backstory's episode "Teen Activists: A History of Youth Politics and Protest" are great options!
Do it! One leadership-related book or podcast episode every month
Find a mentor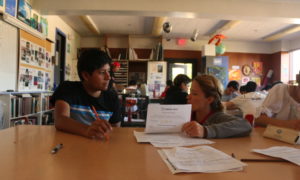 When considering our New Year's resolutions for aspiring leaders, we thought a lot about where young leaders learn how to become better. Mentorship is an invaluable resource as a young leader. A mentor can play a big role in both teaching and encouraging you to reach your goals.
Speaking with and getting to know someone with more experience than you in your field of interest can be a great learning opportunity. Not only that, but it can also be very inspirational. A mentor provides you with someone to look up to, and the opportunity to better understand how to get to where you want to be, because they are already there!
One of the biggest challenges for young people is finding a mentor. Maybe you already know of someone in your local area that you look up to, or have a specific interest, passion, or career goal that you could use to narrow your search. Finding a mentor is not an easy process, but it is very valuable in your leadership development. It can become an important relationship and big advantage in achieving your goals and improving your abilities as a leader. For more on the process of finding the right mentor and approaching them, this article is very helpful.
Do it! Find someone you want to learn from, and reach out to them to ask for advice or mentorship.
Get hands-on experience as a leader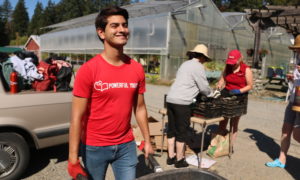 As an experiential leadership program, it goes without saying how important we think hands-on experience is in leadership development. Leadership is not something you could ever be great at by reading all the books about it or listening to a lot of TedTalks. It takes a lot of time and experience, as well as failures and successes. Even then, you can always learn more and become better! This is why getting hands-on experience as a leader is one of our New Year's resolutions for aspiring leaders. It's the best way to learn!
Maybe you're already involved in a project, club, or team, for instance, and an opportunity comes up to take on a leadership role with more responsibility. Make this year the year you seize that opportunity, even if it seems intimidating! Or even better, lead a project, event, or club of your own based on your passions and interests. For example, during our Senior Global Leadership Academies, participants get the chance to develop (with the help and support of our leadership coaches) their DREAM Project that they are passionate about. Participants leave the program with the skills and confidence and a strong plan to make a difference in their community. 
Don't be scared of failure!
Part of hands-on leadership learning is accepting that there will be tough times, and probably some failure. This is nothing to be afraid of, as it is a crucial part of leadership development! Don't believe us? Here's 6 different TedTalks, all about the benefits of failure. Therefore, don't let failure or concern that you "aren't ready" let you stop yourself from the amazing learning that comes from actually being a leader. That's why our leadership programs are full of fun leadership challenges and opportunities to apply what you've learned in the real world and in real leadership situations. We've even won an iStudy award for the Best in Experience-Based Learning for three years in a row!
Do it! Take on a leadership role that challenges you.
Make reflection a regular part of your routine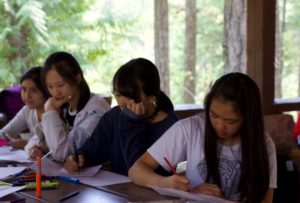 Why do we incorporate reflection exercises in our experiential leadership programs? Because it's so effective. The final resolutions of our New Year's resolutions for aspiring leaders may seem the easiest, but it's also one that could have the biggest impact.
Reflecting allows you the opportunity to really sit down and think about your goals, your progress, opportunities, and challenges. This gives you the chance to consider things you may not have had time to in the moment, and reassess your goals accordingly. You learn from past mistakes or challenges and see future possibilities more clearly.
Reflection can come in many forms. For example, you may choose to write, draw, or even record yourself talking about the experience you had. For many accomplished leaders, reflection is a part of their daily ritual. However, you may choose to reflect monthly, or after specific milestones you reach.
If you have a team around you, consider holding a group reflection or debrief after major events, failures, or successes! Reflecting as a group is also an excellent opportunity for group bonding and to learn from one another.
Do it! Develop a reflection routine.
Using the power of experience-based learning, Powerful Youth is an award winning social enterprise dedicated to providing the best leadership training for youth world wide, helping them uncover purpose, fueled by their passions, to create positive and lasting change in themselves and their communities.
Want to learn more about our experiential leadership programs in Canada and the UK for international youth ages 12-18?
Read other blog posts by Powerful Youth!