9 Inspiring Instagram Accounts for Teens to Follow
We are excited to share nine inspiring Instagram accounts for teens to follow. These are the kind of accounts that inspire us, and we hope they will do the same for you! 
Wait… isn't Instagram just a place for liking your best friend's latest selfie? Maybe keeping up to date with the celebrities and organizations you care about? An endless vortex of scrolling? 
Of those Gen Z-ers social media users who have considered taking a break from or quitting social media, a study found that 41% said it was because they were wasting too much time on it, and 35% said it was because there was too much negativity. But what if Instagram could be a source of inspiration? 
On this list are young entrepreneurs, large international organizations, global changemakers, and even inspiring news stories! By following these nine inspiring Instagram accounts for teens, your feed will inspire and motivate you to dream big, work towards achieving your goals, and change the world! Hardly a waste of time now. 
1. @gretathunberg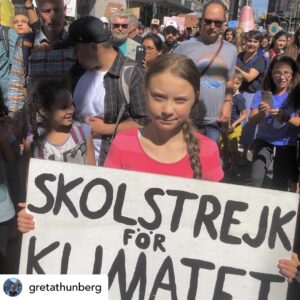 This 16-year-old has taken the world by storm, starting with her personal school strike back in her home country of Sweden and leading all the way to speaking on the world's biggest stages in defence of the climate. On her Instagram page you can follow along with her travels to climate strikes across the world, her collaborations with other young climate activists, and watch clips of her speeches. She also shares interesting and alarming information about climate change… and a few selfies thrown in for good measure!
Why is @gretathunberg one of our inspiring Instagram accounts for teens to follow?
Have you ever doubted the power of one young person to make change on a global scale? Having Greta in your feed will have you dismissing that notion in no time. She will change your mind about what a leader can look like… turns out it can look like anyone. (But if you're considering taking part in Powerful Youth, you probably knew that already!)
Find her on Instagram: @gretathunberg
2. @idealist_org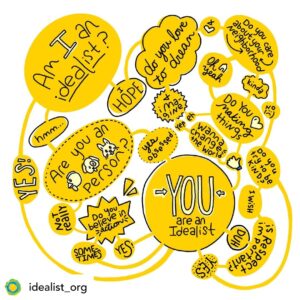 Idealist is "all about connecting idealists – people who want to do good – with opportunities for action and collaboration".  The Idealist website is a platform for individuals who want to make a difference in the world to find opportunities of all kinds, be it education programs, volunteer positions, or employment. Their Instagram is the place where they share this message of dreaming big and doing good on a daily basis. 
Why is @idealist_org one of our inspiring Instagram accounts for teens to follow?
Of course their website is great too, but Idealist's Instagram is worth a follow to get a glimpse of successful social entrepreneurs, philanthropists, and changemakers around the world. These 'idealist' profiles and success stories, alongside positive messaging, motivational content, and ideas on how to make positive change in your world from big to small, will give you the confidence to dream big too! 
Find them on Instagram: @idealist_org
3. @humansofnewyork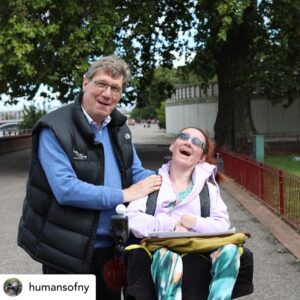 If you aren't already one of the 9.5 million people following this account, you have years of stories to go back and read through. From one liners to a life story told over multiple post, these are stories of love, family, jobs, mental health, heartbreak, struggle, growing up, and everything in between. New York street photographer and storyteller Brandon Stanton started approaching strangers, taking their photos, and sharing the stories of people in his city. Now, he travels across the globe, offering his followers a glimpse into the lives of a wide variety of people across the world. 
Why is @humanofnewyork one of our inspiring Instagram accounts for teens to follow?
Here at Powerful Youth, we know that having a global mindset is integral to understanding (and then, changing) the world around you. This account tells the stories of people across the world, from all walks of life. These stories are often relatable, allowing us to understand how we're not so different after all, but it has also featured people in extremely difficult situations. Thanks to a Patreon supported by his loyal followers, Brandon is able to provide financial support in the moment to struggling and deserving individuals he meets. Not only are many of the stories inspiring, but this account also shows how something as simple as a passion for street photography has allowed one man to help those in need around the world. 
Find him on Instagram: @humansofny
4. @goodhq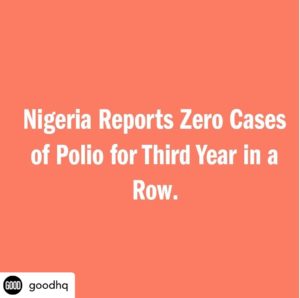 GOOD's Instagram feed is home to news from across the world – but not the news you usually hear. They share the kind of news you'd expect from their name: good news only. Their simple, colourful posts share a headline of something good or inspiring that happened in the world each day, and provide links if you're interested in learning more. Topics range from scientific studies to politics to feel-good stories.
Why is @goodhq one of our inspiring Instagram accounts for teens to follow?
Sometimes, opening our eyes to see the problems in the world can propel us to make a change. If we don't know what's going on, how can we change it? But sometimes, especially in a fast-paced news world dominated by tragedy, disaster, and fear, we need a little positivity. Scientists making breakthroughs. Countries adopting inclusive policies. Big wins for the environment. Inspiring individuals making a difference in their communities. Following GOOD will remind you of all the amazing things that are happening in the world, how people are working hard to change the problems they see around them, and that you could do it too!
Find them on Instagram at @goodhq
5. @boyanslat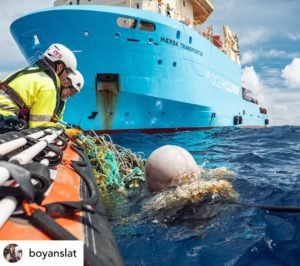 Boyan Slat is the founder and CEO of The Ocean Cleanup, a non-profit organization that works to rid the ocean of plastic through advanced technologies. He started the organization in his home country of the Netherlands when he was only 18 years old! Now, with a team of 80+ researchers, scientists, and engineers, the technologies they have designed have officially began to successfully capture plastic from Great Pacific Garbage Patch as of October 2019. His Instagram is a glimpse into his life as a successful young social entrepreneur and environmentalist, and also captures the ups and downs along the way to The Ocean Cleanup's goal of cleaning 90% of the ocean's plastics.
Why is @boyanslat one of our inspiring Instagram accounts for teens to follow?
Boyan Slat is a great example of a young person who used the skills he had to target one of the biggest problems in the world. Seeing his passion for his work will make you consider what your passions are and what skills you have to put towards making a change. As a bonus, maybe all pictures of ocean plastic on your feed will also give you inspiration of another kind and inspire you to reduce your single-use plastic consumption! The Ocean Cleanup's Instagram is also a worthy follow for those interested in ocean plastic issues and more updates on their projects. 
Find him on Instagram: @boyanslat
6. @dosomething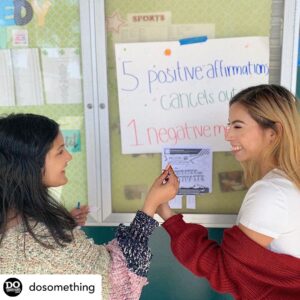 This digital platform is mobilizing young people across the world (131 countries so far!) to make a social impact by taking part in their many campaigns and projects. Anyone can take part and contribute in their communities to the campaigns that inspire them! Campaigns are intentionally not location-dependent, don't require any financial resources, and are easy to contribute to. 
Why is @dosomething one of our inspiring Instagram accounts for teens to follow?
Of course their digital platform is great, but why their Instagram is worth a follow is for inspiring content, celebrity contributions, campaign announcements, book and follow recommendations, and some funny memes for good measure. Not only will it bring some positivity to your feed, but also offer some inspiration to take steps (big or small!) to make real-world impact for the causes you care about. 
Find them on Instagram: @dosomething
7. @shane_feldman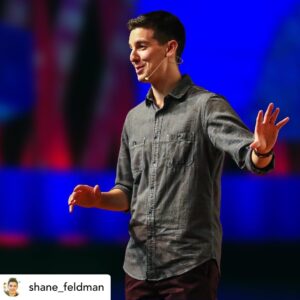 In high school, Shane Feldman started Count Me In, now the world's largest youth-led organization. It aims to inspire young people to be positive change-agents in their communities, and their members have logged over 100 million service hours since 2011! Now 24, Shane is the CEO of this organization valued at $2.3 billion USD. He travels around the world doing motivational speaking and inspiring young people. He shares clips of him speaking at events and conferences, the behind the scenes of running Count Me In, and other content that will have you inspired by his amazing accomplishments as a leader!
Why is @shane_feldman one of our inspiring Instagram accounts for teens to follow?
We at Powerful Youth love to see other organizations encouraging teens to tap into their leadership potential and make a difference in their communities. By filling your feed with people like this inspiring young social entrepreneur, you will give yourself the daily inspiration to dream big. He also shares his favourite motivational quotes, promotes other awesome young leaders and projects, and more of the kind of content that will have you wanting to take on a leadership role in your community!
Find him on Instagram: @shane_feldman
8. @readingforgrowth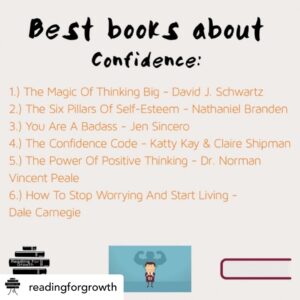 How much reading do you do beyond mandatory reading as part of school? This account started as a way to share a love for reading and personal development. He suggests books that aren't just good reads, but will help you grow as well. Regular content includes lists recommending different books about specific topics (goal-setting, confidence, and morning routines are three recent ones). This way, you can find a book for whatever you're wanting to improve by scrolling back to find the list that suits you. The person behind it, Alex, is actually a university student in the UK, so the books he reads and recommends definitely aren't your grandpa's self-help books! 
Why is @readingforgrowth one of our inspiring Instagram accounts for teens to follow?
We all know we should read more, and having this account on your feed might just be the inspiration and reminder to do just that! "But I'm so busy, I don't have much time to read!" It's still worth a follow for his short summaries and list of things he's learned from recent reads, or favourite quotes from favourite books. Who knows what you could learn?!
Find him on Instagram: @readingforgrowth
9. @powerfulyouthleadership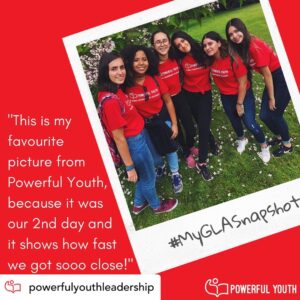 We HAVE to promote our very own Powerful Youth account, of course! Our feed features Dream Project updates, staff and participant profiles, our *wildly photogenic* past participants, and motivational content to keep you inspired! We also make sure to keep everyone in the loop with what's happening during our summer programs just to make you jealous… unless you're there! And even better, you'll never miss the opportunity to join us in Canada or the UK, because we make sure to share application deadlines and everything else you need to know.
Find us on Instagram: @powerfulyouthleadership
Using the power of experience-based learning, Powerful Youth is an award winning social enterprise dedicated to providing the best leadership training for youth world wide, helping them uncover purpose, fueled by their passions, to create positive and lasting change in themselves and their communities.
Want to learn more about our experiential leadership programs in Canada and the UK for international youth ages 12-18?
Read other blog posts by Powerful Youth